Kareena Kapoor Khan stepped out in a make­up-free look for a fam­i­ly out­ing in Lon­don. She met her cousin Rid­dhi­ma Kapoor Sah­ni and her aunt Reema Jain.
When Kareena Kapoor Khan and her fam­i­ly are in Lon­don, the Kapoors recent­ly got togeth­er for a quick meet. On Thurs­day, Rid­dhi­ma Kapoor Sah­ni shared a glimpse of her out­ing with her cousin Kareena. They were also joined by her aunt Reema Jain. (Also read: Kareena Kapoor and Saif Ali Khan meet Kunal Nay­yar in Lon­don)
In the pic­ture, Kareena debuted her no make­up look with her hair tied in a bun. She sport­ed a casu­al look in a vest over a striped shirt. Beside her was Reema Jain, who cap­tured both Kareena and Rid­dhi­ma for the pic­ture. Rid­dhi­ma appeared in the all-black look. She shared the pic­tures and added red heart emojis.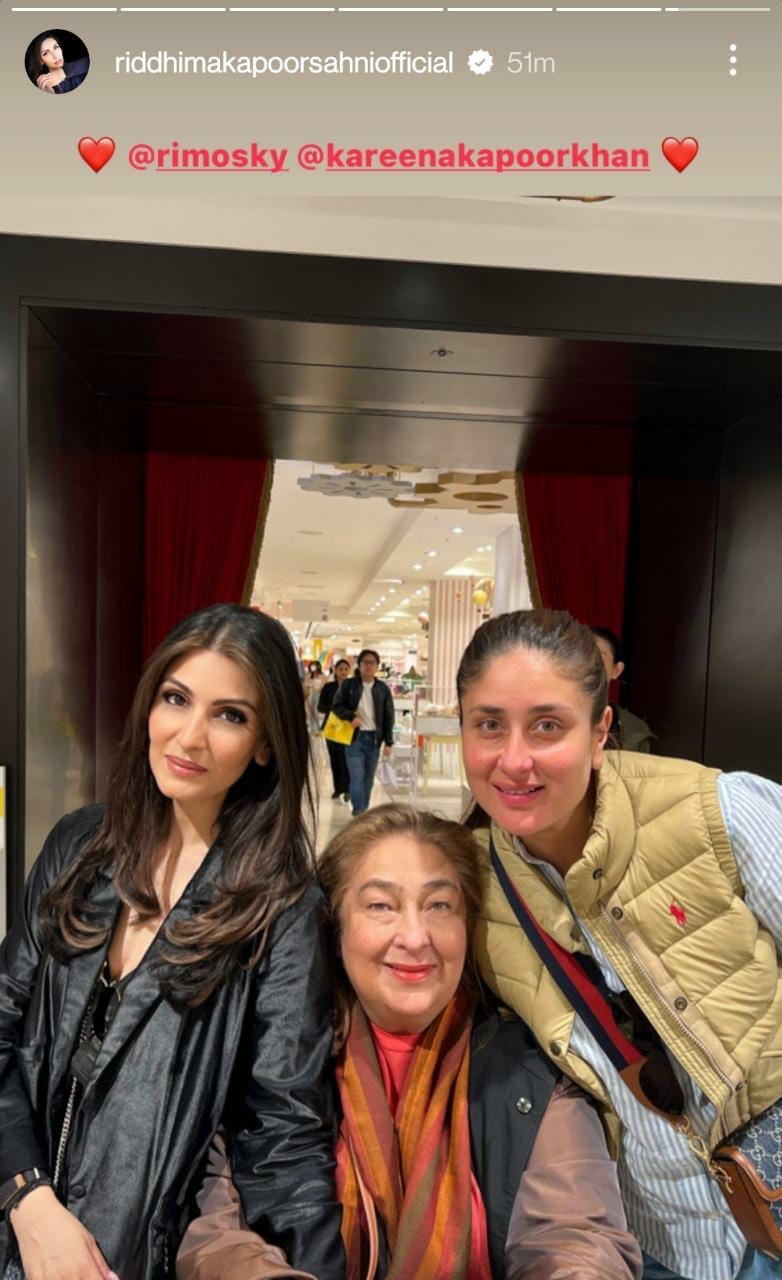 Rid­dhi­ma Kapoor Sah­ni is the daugh­ter of Nee­tu Kapoor and the late Rishi Kapoor. She is an entre­pre­neur and jew­el­ry design­er. She is among the many Bol­ly­wood celebri­ties who are in Lon­don either for busi­ness or plea­sure. Rid­dhi­ma is mar­ried to her hus­band, busi­ness­man Bharat Sah­ni, and was spot­ted in Lon­don with their daugh­ter Samara.
Along­side Rid­dhi­ma, fash­ion design­ers Man­ish Mal­ho­tra, Karan Johar, Alia Bhatt, Twin­kle Khan­na, Gau­ri Khan and Shilpa Shet­ty are also tak­ing a break in Lon­don. Maheep Kapoor and San­jay Kapoor recent­ly shared pic­tures of their last lunch with Son­am Kapoor, who is expect­ing her first child with Anand Ahuja.
On the oth­er hand, Kareen has also shared reg­u­lar updates from Lon­don. Whether it's meet­ing her friends, going out to din­ner or con­certs, she seems to be hav­ing a great time with Saif Ali Khan and her old­er son, Taimur Ali Khan. In one of her lat­est pics shared by fan accounts, she was spot­ted along­side The Big Bang The­o­ry actor Kunal Nay­yar and his mod­el wife Neha Kapur.
Kareena will next be seen in Laal Singh Chad­ha with Aamir Khan. The film will be released on August 11, 2022.