Actress Vicky Kaushal shared a can­did pic on her Insta­gram on Thurs­day, in which the "URI" actor can be seen along­side leg­endary lyri­cist Gulzar as he steps into Sam Manek­shaw's foot­steps for his upcom­ing biopic, Sam Bahadur .
Pic­tured, the 'Man­marziyan' actor shared a smile with the 'Raazi' lyri­cist, with his hand on his heart as a sign of respect for the leg­endary writer, while the 87-year-old screen­writer held the hand the actor's hand.
Fans flood­ed the com­ments col­umn with heart emoti­cons and many Bol­ly­wood celebri­ties also react­ed to the pic­ture. "Yaaaaar," Aysh­mann Khur­rana com­ment­ed on the image, fol­lowed by cry­ing and a white heart emo­ji. Actor Rajkum­mar Rao wrote "So cute" fol­lowed by a heart emoticon.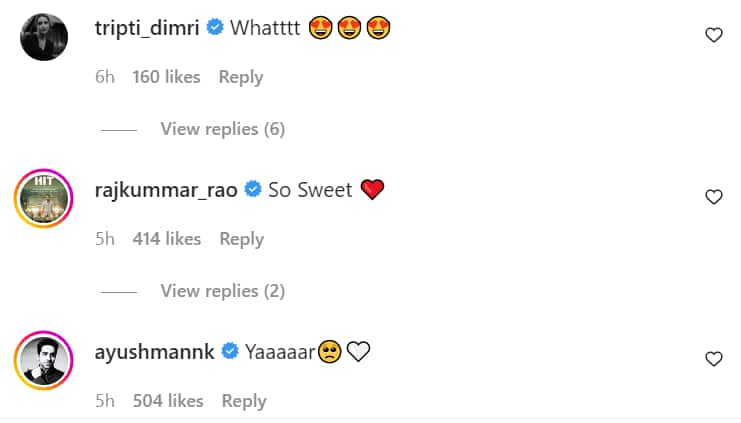 The writer and actor first worked togeth­er on Megh­na Gulzar's direc­to­r­i­al work Raazi, which was a hit and Vicky received crit­i­cal acclaim for his per­for­mance in the film.
Vicky is cur­rent­ly prepar­ing for his upcom­ing film, Sam Bahadur, based on the life of leg­endary Chief of Staff and Field Mar­shal Sam Manek­shaw. The film is direct­ed by 'Chha­paak' film­mak­er Megh­na Gulzar and also casts Sanya Mal­ho­tra as Sam Manek­shaw's wife Siloo Manek­shaw and Fati­ma Sana Sheikh as for­mer Prime Min­is­ter of India Smt. Indi­ra Gand­hi in the lead­ing role.
This is Vick­y's sec­ond col­lab­o­ra­tion with Megh­na fol­low­ing her block­buster hit Raazi in 2018. Apart from that, Vicky recent­ly received and will be award­ed the IIFA Best Actor — Male Award for his per­for­mance in Sar­dar Uddham Singh be seen in the next Mad­dock Films movie star­ring Sara Ali Khan.