The first half of 2022 has been quite excit­ing for the Tel­ugu film indus­try. It played a big role in fill­ing the cin­e­mas — and not only in the Tel­ugu coun­tries. Films by Tel­ugu film­mak­ers became the coun­try's toast and con­tributed immense­ly to the box office recov­ery in India after the debil­i­tat­ing pandemic.
Push­pa: The Rise by Tol­ly­wood super­star Allu Arjun caused sur­prise across the coun­try, espe­cial­ly in the Hin­di belt. The film opened over the Christ­mas hol­i­days of 2021 and con­tin­ued on its suc­cess­ful run well into the first half of Jan­u­ary with­out any major chal­lenges at the box office.
Push­pa became a huge hit and became a pop cul­ture phe­nom­e­non. Push­pa, his whim­si­cal man­ner­isms and over­ly hero­ic punch lines cap­tured peo­ple's imag­i­na­tions from house par­ties to announce­ments of pub­lic inter­est to wed­ding cer­e­monies and elec­tion cam­paigns. Push­pa con­tin­ued to dom­i­nate the news cycle beyond its suc­cess­ful the­atri­cal release.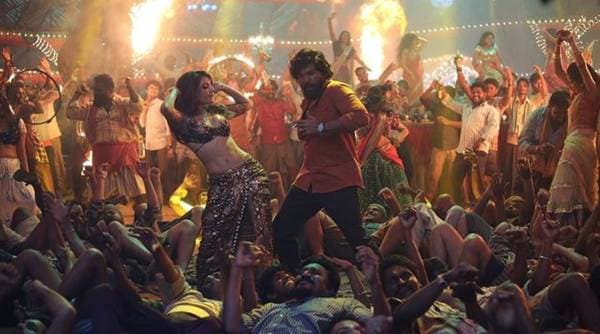 A still from Push­pa: The Rise.
While Push­pa was a huge hit in the Hin­di belt, the film strug­gled to break even in its native Andhra Pradesh. Although it drew full hous­es from day one, the state gov­ern­men­t's strict pol­i­cy of reg­u­lat­ing movie tick­et prices at the time cut into the film's prof­its. After weeks of tough nego­ti­a­tions with the Jagan Mohan Red­dy gov­ern­ment led by Tol­ly­wood super­star Chi­ran­jee­vi, a break­through was achieved. The gov­ern­ment relent­ed and allowed the basic tick­et prices in the cin­e­ma halls to be increased so that the future films could make a prof­it. And one of the biggest ben­e­fi­cia­ries was direc­tor SS Rajamouli's RRR. Ram Charan-Jr.'s NTR Movie was award­ed not only in India but also inter­na­tion­al­ly after it appeared on Netflix.
Not only at the box office, the Tel­ugu film indus­try also deliv­ered a hand­ful of good films that reward­ed audi­ences who braved the pan­dem­ic to sit and cheer in a packed cin­e­ma hall. How­ev­er, the ratio of good films to bad films was annoy­ing­ly low.
The good ones:
RRR
Direc­tor SS Rajamouli's reimag­in­ing of a lib­er­ty revolt against the British Raj was a much-need­ed break for audi­ences after two years of suf­fer­ing from a pan­dem­ic and all it brought. The sto­ry takes place in the 1920s when the British were at the height of their pow­er in India. The film takes on an almost mag­i­cal qual­i­ty with over­sized wild ani­mals and two men who are the epit­o­me of old-school machis­mo pulling off some incred­i­ble stunts beyond the nat­ur­al and lim­it­ed pow­ers of the aver­age human. It's a fan­ta­sy land where two Indi­ans out­do the impe­r­i­al zealots in every way. From elec­tri­fy­ing dance-offs to gun-shoot­ing, chival­rous demeanor, cun­ning and dan­ger­ous­ness, these two high­ly skilled assas­sins will bring the Empire to its knees. Ram Cha­ran and Jr. NTR bring to life a pair of per­fect myth­i­cal heroes dreamed up by Rajamouli.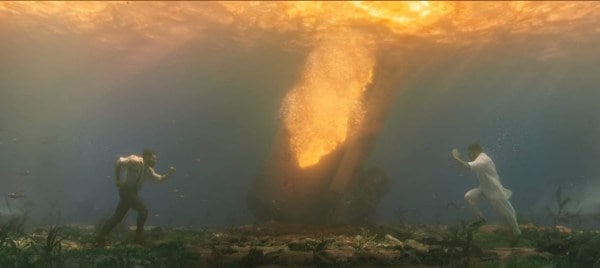 A still from RRR (Pho­to: DVV Entertainment/Twitter)
Major
Major was a pas­sion project for Adi­vi Sesh, who wrote the film's screen­play and starred in it. And he's get­ting a lit­tle greedy with the project, as he crams into the film every­thing that makes it look good on screen and some­how under­mines the oth­er aspects of the sto­ry­telling that would do full jus­tice to the life and sac­ri­fice of the 26/11 hero Major Sandeep Unnikr­ish­nan. The emo­tion­al com­po­nent of the film is com­pelling, although famil­iar. And much cred­it should be giv­en to Revathy and Prakash Raj. They bring to life the thought process of par­ents who don't want to send their son off to fight at the bor­der. The film has its flaws, but it also has its moments.
Ante Sun­darani­ki
The struc­ture of the nar­ra­tive is per­fect­ly matched to the per­son­al­i­ty of its pro­tag­o­nist, Sun­dar, who is played by an in-form Nani. The film tells the roman­tic sto­ry of a cou­ple belong­ing to dif­fer­ent reli­gious back­grounds. Sun­dar and Leela (Nazriya Naz­im) belong to con­ser­v­a­tive fam­i­lies who bul­ly those who do not belong to their own com­mu­ni­ty. But love is blind to reli­gion and all oth­er invent­ed social dis­tinc­tions. The pair are then forced to weave a web of end­less lies to cir­cum­vent their fam­i­lies' pride and prej­u­dice, result­ing in an irrel­e­vant flow of humor with a com­fort­able fluency.
Vira­ta Parvam
This film lands by a razor-thin mar­gin in the best films list. With­out an endear­ing and mov­ing­ly ten­der per­for­mance by Sai Pallavi, this film could not have been saved. She sin­gle-hand­ed­ly makes us care about this movie and every­thing else that hap­pens in it. Said to be inspired by true events, the film tells the love sto­ry of a coura­geous woman who embarks on a life-chang­ing jour­ney into the most unsafe jun­gles in search of a Nax­al leader who has cap­tured her heart with his rev­o­lu­tion­ary poetry.
The bad ones:
Sarkaru Vaari Paata
Mahesh Babu plays an NRI char­ac­ter who returns to his home coun­try to solve its prob­lems. In this issue, he asks peo­ple to wake up and smell the sys­temic cor­rup­tion that dri­ves the rich and pow­er­ful to rip off the hard­work­ing and decent cit­i­zens. The film's sub­ject mat­ter is rel­e­vant and even urgent, but the film­mak­ers miss the oppor­tu­ni­ty by turn­ing this film into an exer­cise in hero worship.
Acharya
This is for sure one of the most bor­ing movies of Tel­ugu film indus­try. Every frame and scene in the film suf­fers from direc­tor Korata­la Siva's fail­ure to come up with any­thing original.
Ban­gar­ra­ju
Ban­gar­ra­ju is the fol­low-up film to Sog­gade Chin­ni Nayana. This also appears to be Nagar­ju­na's attempt to boost Naga Chai­tanya's act­ing career. And it begs the ques­tion, if Nagar­ju­na Naga real­ly want­ed to help Chai­tanya, why would he even get him to do this film?
Prab­has and Poo­ja Hegde in Rad­he Shyam.
Rad­he Shyam
After the tremen­dous suc­cess of Baahubali 1 and 2, Prab­has has fall­en into a trap of larg­er than life block­busters. It does­n't mat­ter how bad the film is, but it needs to be assem­bled on an expan­sive scale. It does­n't mat­ter if a film lacks heart and soul, as long as it's huge, Prab­has does­n't seem to have any qualms about star­ring in it.
Bheem­la Nayak
It is the remake of the Malay­alam hit Ayyap­panum Koshiyum. Like Vakeel Saab, Pawan Kalyan finds a way to revolve this film, which was orig­i­nal­ly a bat­tle of egos deal­ing with class, social and cul­tur­al con­flicts, entire­ly around himself.
F3
Direc­tor Anil Ravipu­di appears to be mak­ing F4. The horror!