The supreme court sparked a flur­ry of crit­i­cal obser­va­tions on for­mer BJP spokesman Nupur on Fri­day Shar­ma and accused them of ignit­ing the coun­try and dam­ag­ing the social fab­ric with their alleged­ly blas­phe­mous pro­nounce­ments against the Prophet, lead­ing to the unfor­tu­nate behead­ing of a tai­lor in Udaipur.
Senior Coun­sel Manin­der Singh vehe­ment­ly argued that under the SC's Arnab Goswa­mi rul­ing in 2020, near­ly a dozen FIRs reg­is­tered against her in var­i­ous states should be struck down in Del­hi, where the first FIR was filed on May 28. But a bench of Jus­tices Surya Kant and JB Par­di­wala refused rem­e­dy, say­ing the con­science of the court was not satisfied.
This stayed Nupur no choice but to with­draw their peti­tion. Nupur had moved the PC, say­ing that she and her fam­i­ly mem­bers received con­stant rape and death threats after respond­ing to a reli­gious lead­er's blas­phe­mous com­ments against the "Shiv­ling" liken­ing it to a well. Two men have been arrest­ed for behead­ing a tai­lor in Udaipur for sup­port­ing Nupur's com­ment on social media.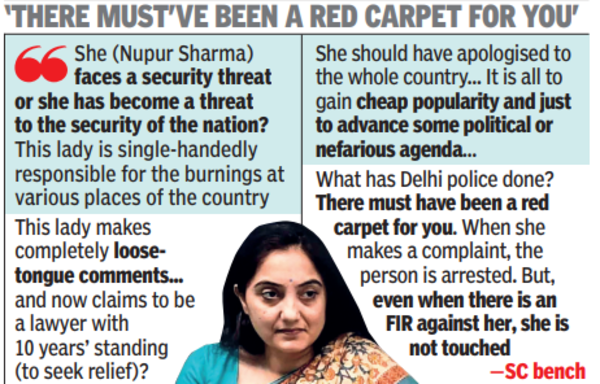 Plead­ing in favor of beat­ing the FIRs in Del­hi, Singh said it was not safe for them to trav­el to dif­fer­ent states giv­en the seri­ous threat to their lives. "She does­n't run away from inves­ti­ga­tions. She wants the FIRs blud­geoned togeth­er in Del­hi for inves­ti­ga­tion. She has already joined the inves­ti­ga­tion in Del­hi," he said.
This opened the flood­gates and a stream of caus­tic obser­va­tions from the bench that seared Shar­ma. "It faces a secu­ri­ty threat or has become a threat to the secu­ri­ty of the nation? And what did the Del­hi Police do? Please don't make us open our mouths. When she files a com­plaint, the per­son is arrest­ed. But even if there is an FIR against her, she will not be touched. Nobody dares to touch you. That's the clout you enjoy."
Regard­ing her alleged­ly blas­phe­mous remarks dur­ing a TV debate, the bench said: "The way she ignit­ed the whole coun­try… She still has the gall and courage to come to this court to ask for relief, instead of turn­ing to the respec­tive high courts for court pro­ceed­ings. This lady is sin­gle-hand­ed­ly respon­si­ble for set­ting fires across the country."
While TV debates on a mat­ter of low­er juris­dic­tion have been frowned upon (like the Gyan­va­pi Mosque case, where the Shiv­ling has been ridiculed by many Mus­lims with impuni­ty), the bench said: "It's so dis­turb­ing. The result is what unfor­tu­nate­ly hap­pened in Udaipur. It's up to you to decide if you want to retreat and go in front of the affect­ed HCs. Even if a prin­ci­ple is estab­lished in the Arnab Goswa­mi case, it is a valid rea­son to refuse relief. Our con­science is not satisfied."
Jus­tices Kant and Par­di­wala said in the tele­vised debate where the alleged­ly blas­phe­mous remarks were made: "The pre­sen­ter mis­chie­vous­ly incit­ed her and anoth­er gen­tle­man who was a reli­gious leader. And this lady has irre­spon­si­bly made explic­it com­ments and now claims to be a 10-year attor­ney seek­ing relief.
Respond­ing to repeat­ed pleas from her lawyer that she retract­ed her com­ments the next day and apol­o­gized, the bank said: "It was too late in the day to retract. But this with­draw­al is also sub­ject to con­di­tions — our so-and-so was con­stant­ly insult­ed and dis­re­gard­ed. These are the peo­ple who are not reli­gious at all. They have no respect for any reli­gion. A per­son who is reli­gious will also have respect for oth­er reli­gions. Such pro­nounce­ments are made only to gain cheap pop­u­lar­i­ty and only to advance a polit­i­cal or nefar­i­ous agenda."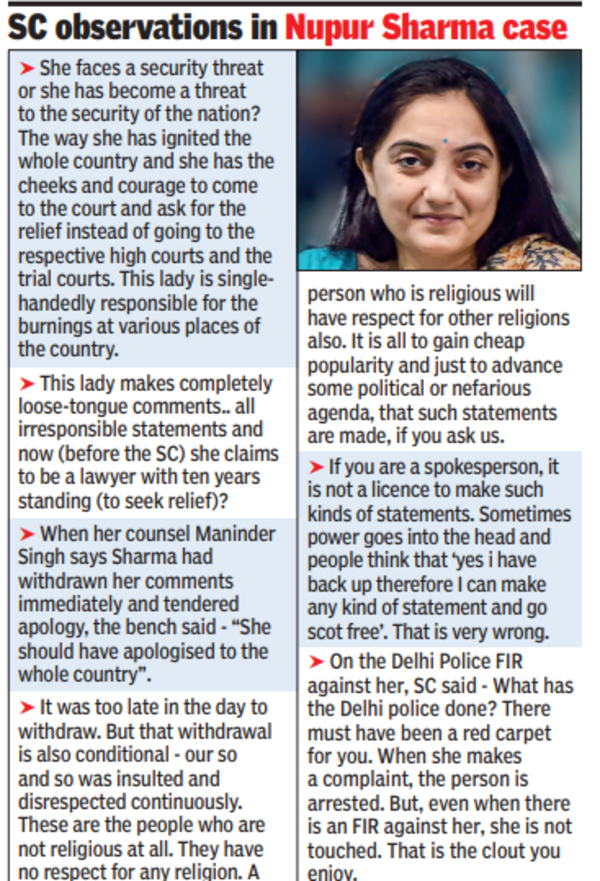 Singh argued that even if the FIRs were tak­en at face val­ue there was no offense as what she said had already been said by the reli­gious preach­ers of the com­mu­ni­ty. The bank said: "The peti­tion­er also shows her head­strong char­ac­ter and her arro­gance that the courts are too small for her to go and appear."
The cloud­burst of obser­va­tions con­tin­ued. "If you are a spokesman, it is not a license to make such state­ments. Some­times the pow­er goes into the head."
Dis­tin­guish­ing her case from Goswami's, the jury said: "This was a jour­nal­ist's case where his right to law­ful­ly express his opin­ion on an issue was tak­en into account. That is on a dif­fer­ent pedestal than a cit­i­zen or speak­er who goes to a chan­nel and starts berat­ing the oth­ers, mak­ing irre­spon­si­ble state­ments with­out even think­ing about the impli­ca­tions and how seri­ous­ly it would dis­rupt the fab­ric of society."
When Singh request­ed the with­draw­al of Shar­ma's peti­tion, the bank imme­di­ate­ly allowed it.