Mul­ti­lin­gual star Raashii Khan­na, who is busy with her upcom­ing film Pak­ka Com­mer­cial, has achieved ulti­mate fash­ion goals with her looks dur­ing the film's promotions.
The actress, who has been win­ning hearts with her out­stand­ing per­for­mances for eight years, does not fail to give us fash­ion inspi­ra­tion. While pro­mot­ing her Tel­ugu film Pak­ka Com­mer­cial, Raashii Khan­na gave us great fash­ion inspi­ra­tion with all kinds of looks and hit each of them with absolute grace.
Here are the looks the actress has opt­ed for, which may become your favorite out­fits for brunch or a grace­ful evening.
Black jump­suit and glit­ter eyes: a nightlife win!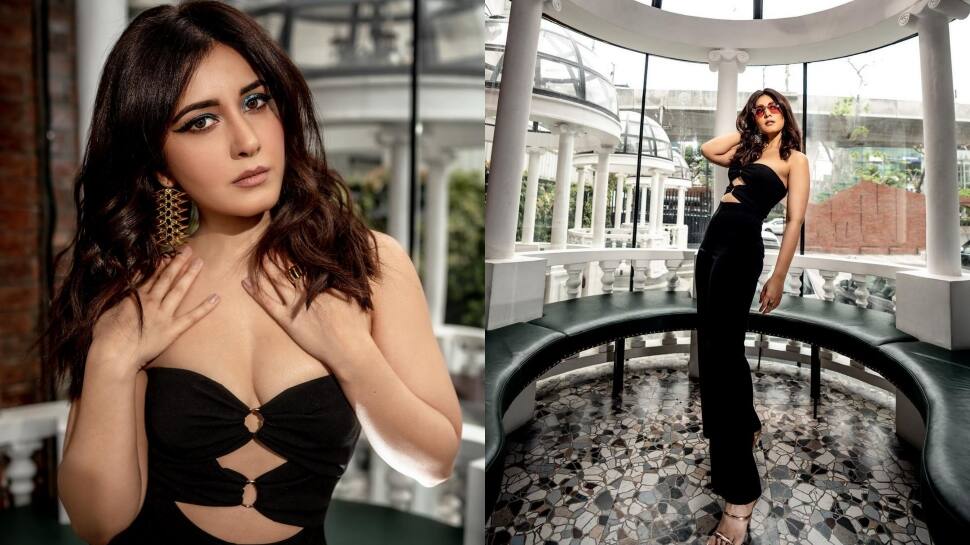 Raashii def­i­nite­ly nailed the black jump­suit look with her absolute­ly fiery atti­tude. The actress looked stun­ning as she wore the glit­tery eye make­up and gold state­ment ear­rings with com­plete grace. Not to men­tion the gold heels and red sun­glass­es that made it a per­fect look for a club night!
Black Net­ted Sequence Saree: Per­fect for dinner!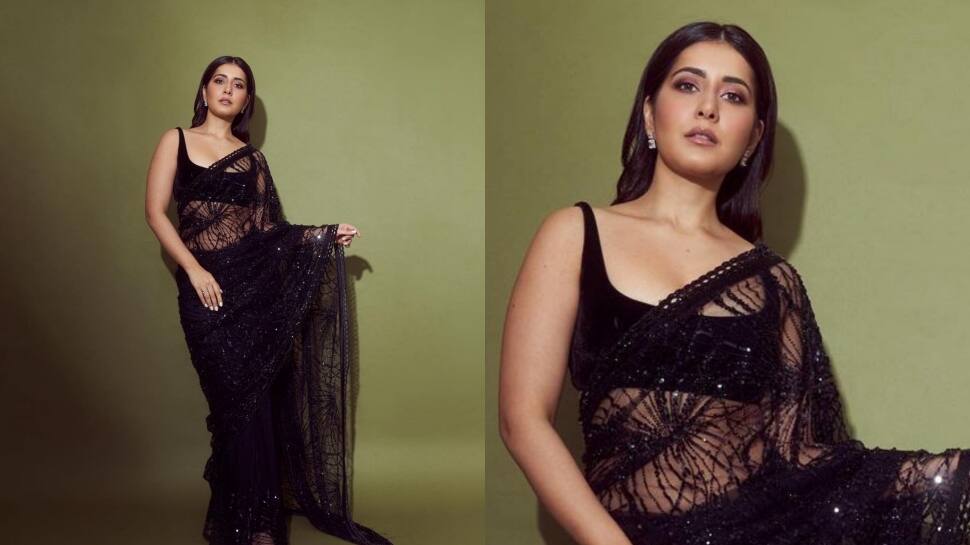 Black is always a win, espe­cial­ly when it's tra­di­tion­al! Raashi­i's black mesh saree with a square neck blouse and stone ear­rings is an absolute steal for your next fam­i­ly din­ner. Raashii Khan­na undoubt­ed­ly looked like a desi princess as she wore the smoky eye make­up like a diva!
The Sun­shine Dress: Per­fect for brunch!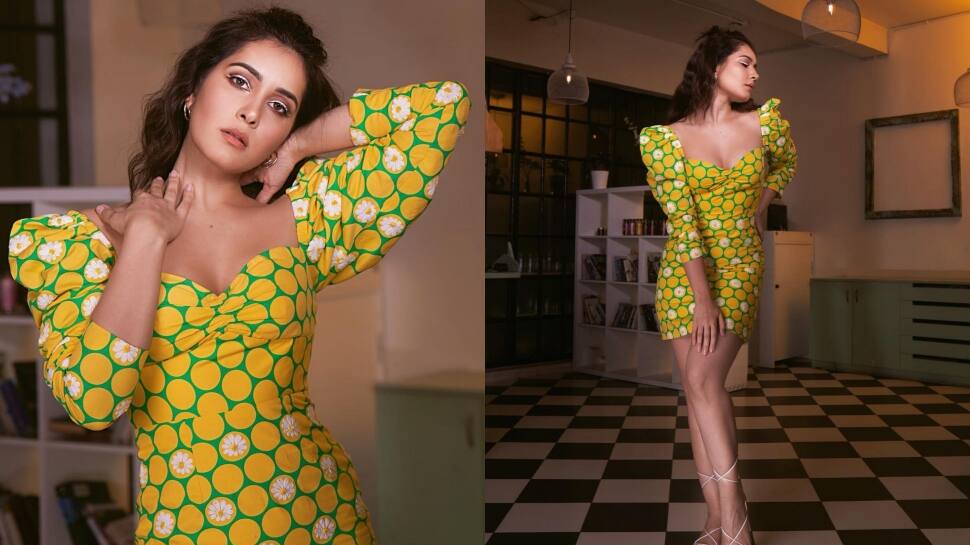 Raashii Khan­na bought you the best brunch out­fit you've been wait­ing for! The yel­low and green short dress along with the puff sleeves just looks the best as Raashii Khan­na wears it with her boss lady vibe!
Long jack­et, crop top and flare pants: an asset to an Indo-West­ern look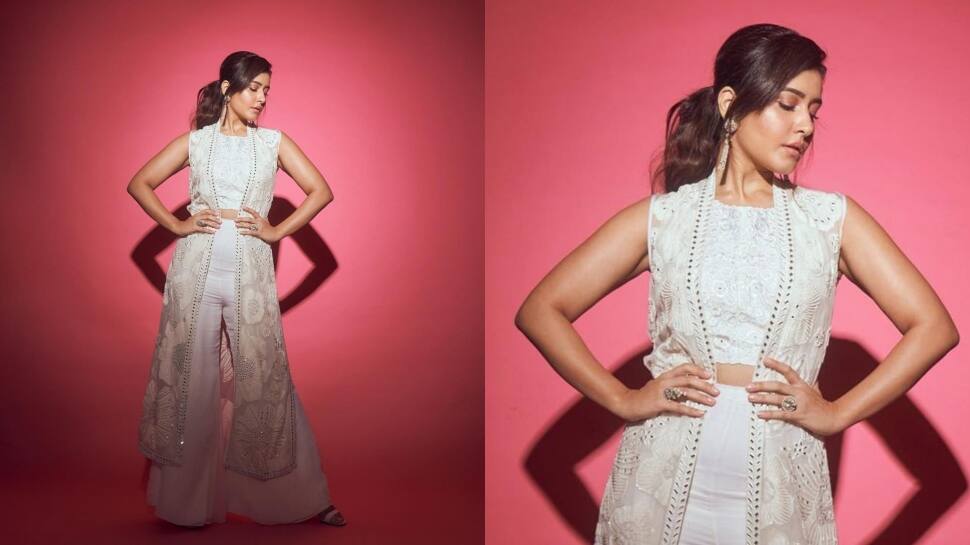 Raashii Khan­na looks like an angel in an all white Indo-West­ern look and tells us all fash­ion goals how sim­plic­i­ty is best. The flared trousers with the match­ing crop top keep her look­ing com­fort­able and the long jack­et ups the style quotient!
Pink and Orange Striped Saree: unique case for the unique combination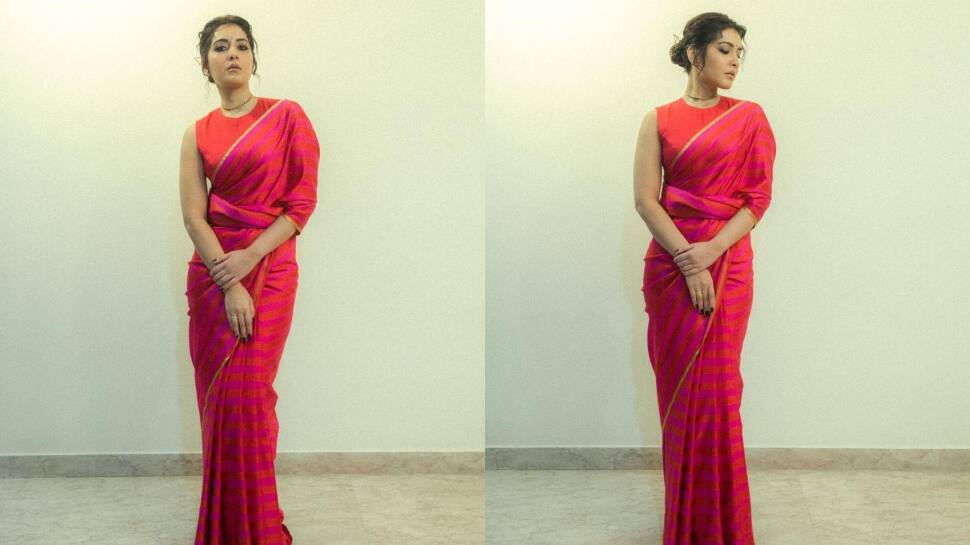 Bring­ing anoth­er gor­geous look to the table, Raashii Khan­na looked stun­ning in this pink and orange striped saree. The actress gave it her own twist by drap­ing it in a com­fort­able and whim­si­cal way. The look def­i­nite­ly looks like a per­fect choice for a fes­tive evening!