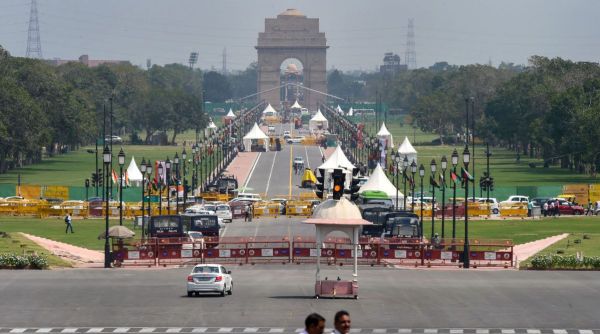 View of the redesigned Central Vista Avenue on the eve of its opening by Prime Minister Narendra Modi in New Delhi. (PTI)
The iconic Rajpath, stretching from Rashtrapati Bhavan to India Gate, was renamed Kartavya Path on Wednesday after a formal decision was made at a special session of the New Delhi City Council (NDMC). "As we complete 75 years of independence, it is only fitting to shed the colonial baggage and walk towards India@100 in the #AmritKaal with our own heritage. Renaming "Rajpath" to "Kartavyapath" is a reminder that the spirit of public service is not "right to rule" but "duty of service," MoS Culture Meenakshi Lekhi tweeted after the meeting.
The redesigned Kartavya Trail will be inaugurated Thursday evening by Prime Minister Narendra Modi at a special event in the presence of Union Ministers Hardeep Puri and G Kishan Reddy, which will also include the installation of a granite statue of Netaji Subhas Chandra Bose under the grand canopy at India Gate.
Central Vista Redevelopment: You can no longer picnic on the lawn next to India Gate
Dedicated areas for ice cream and other food vendors; six new visitor parking spaces; over 400 benches; amphitheater for public performances; 64 toilets for women, 32 for men and 10 for the disabled; underpasses for barrier-free crossing; 16 permanent footbridges and 16.5km of pedestrian walkways – these are some of the new features visitors to India Gate and Rajpath lawns will experience when the refurbished Central Vista opens on September 8, some 20 months after it closed for the renovation project.
Prime Minister Narendra Modi will inaugurate the route and over the next few days cultural programs will welcome visitors to Delhi's most popular open-air venue. As previously reported in The Indian Express, a statue of Netaji Subhas Chandra Bose will also be unveiled on the same day.
Manicured lawns, parking bays and kiosks are the highlights of the newly designed Central Vista
With a grand inauguration of the revamped Central Vista in the state capital this week, the Rajpath and India Gate have been decked out with manicured lanes, walkway bridges, new parking bays and several other high-tech vendor and visitor amenities.
Prime Minister Narendra Modi will inaugurate the new Central Vista complex on September 8th. The BJP government in the center has given assurances that the parliament's winter session will be held in the new building being built as part of the Modi government's ambitious Central Vista regeneration project.