In Vasan Bal­a's Mon­i­ca, O My Dar­ling, the title char­ac­ter Mon­i­ca (Huma Qureshi), who works as a sec­re­tary at Uni­corn Robot­ics, uses her preg­nan­cy to black­mail Jayant (Rajkum­mar Rao), the future son-in-law of the CEO. She has no objec­tion to whether or not she wants to keep the baby. Mon­i­ca tells Jayant that she was han­dling her­self quite well and is han­dling the baby as well. No need to wor­ry, Jayant can go back to his girl­friend and mar­ry her. It's all right. Only that, Mon­i­ca reminds, is so expen­sive these days with all the schools and edu­ca­tion. Mon­i­ca would def­i­nite­ly need his finan­cial sup­port. She draws her line clearly.
What's so refresh­ing about Mon­i­ca is that she's nev­er ashamed of her actions. You stand behind her because you know she's such a hor­ri­ble per­son; not because she's loath­some, but because she knows there's no way she's going to be able to enjoy what life has to offer by fol­low­ing the same straight path. Mon­i­ca knows that if she does­n't stand up for her­self, she'll always be stuck in the cor­po­rate net. She knows what she's doing is ter­ri­ble and can ruin lives for­ev­er, but that's none of her busi­ness. Soon we will find out that Mon­i­ca is not only black­mail­ing Jayant, but also oth­er men in the same com­pa­ny — the CEO's son, Nishikant (Sikan­dar Kher) and the account team guy named Arvind (Bucks). She is fear­less but nev­er reck­less, ful­ly aware of her self­ish­ness between these men. She can see through these men's dou­ble stan­dards and uses it to her own advantage.
Lat­er, when Jayant tells her with a shrug that he's worked hard to get to his cur­rent posi­tion, it takes Mon­i­ca no more than a sec­ond to break his delu­sion and jokes with the stone-cold truth that it's not because of his Tal­ents is there, but only because his sob sto­ry is good. Com­ing from an unsup­port­ed mid­dle-class fam­i­ly, hard­work­ing and sin­cere, he will do any­thing to save the empire. It is this sto­ry that is con­nect­ed, noth­ing else. Jayant is vis­i­bly shak­en by her cold­ness. Qureshi is a riot as Mon­i­ca, mak­ing her feel like she's def­i­nite­ly a close friend of And­had­hun's Simi, anoth­er amoral char­ac­ter played per­fect­ly by Tabu. Guess both And­had­hun and Mon­i­ca, O My Dar­ling were writ­ten by the same man — Yogesh Chandekhar.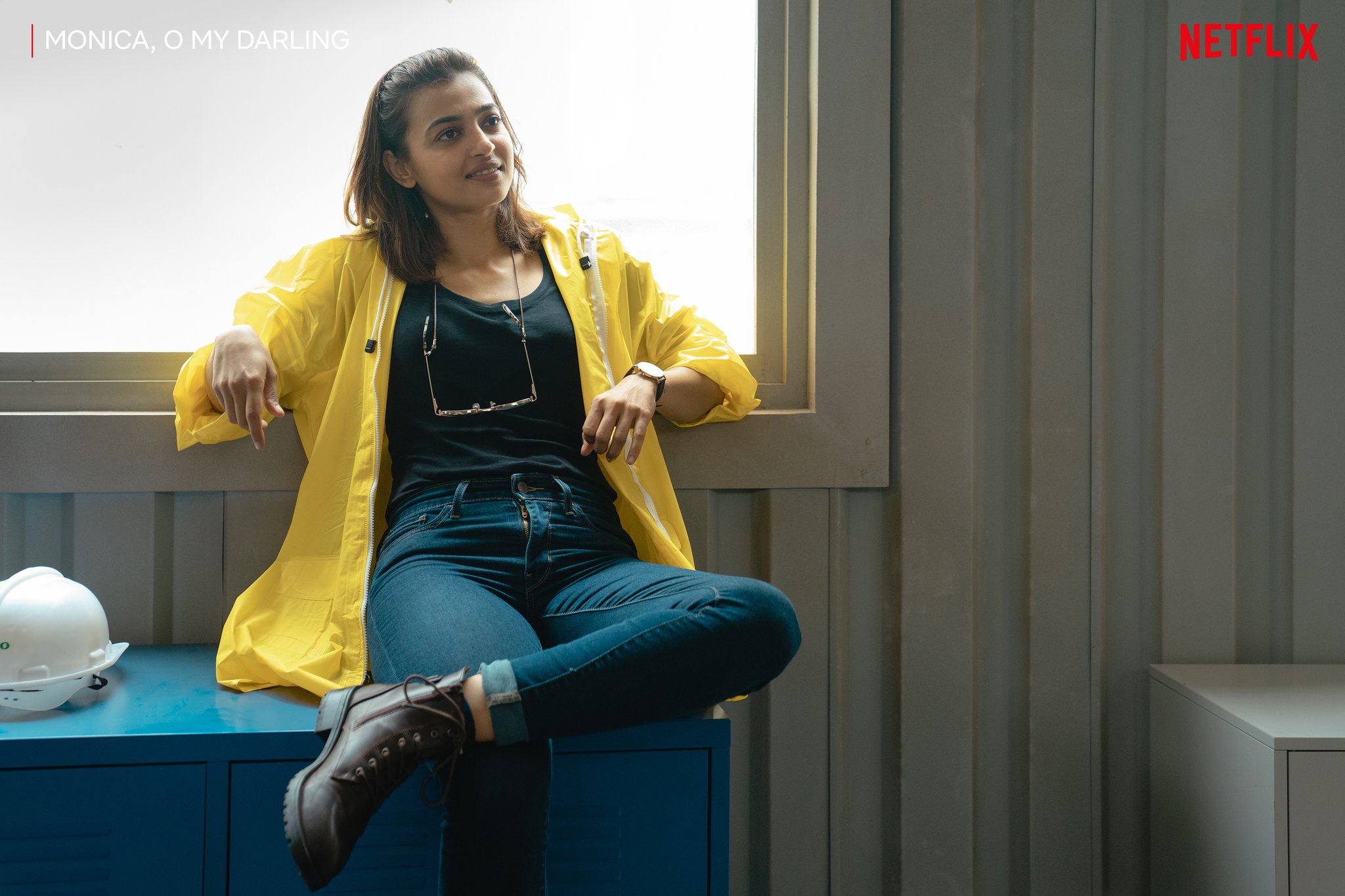 Aside from Mon­i­ca, there's ACP Naidu, played by Rad­hi­ka Apte, who is hav­ing the most fun. She arrives halfway through the film with a non­cha­lance that one would not for­mal­ly asso­ciate with such a posi­tion. That's the catch — we nev­er real­ly see Naidu fit any­one's idea of ​​being a cop. It shapes the patri­ar­chal net­work of com­pli­ance with cer­tain rules and stan­dards of behav­ior in abun­dance. Her first words to Jayant are to turn around and read what she wrote on the black­board — "Nev­er drink alone, don't shit togeth­er." Take me seri­ous­ly, she says right after. It is impos­si­ble to think of any oth­er actor than Rad­hi­ka Apte in the role; She is the true scene thief of the film.
Naidu's way of deal­ing with her sus­pects is to catch them imme­di­ate­ly off guard. She does­n't come with the bag­gage of a senior police offi­cer who has to speak loud­ly and author­i­ta­tive­ly to get her answers. In most cas­es she gets no answer. There's a cer­tain shame­less­ness in the way Naidu treats the peo­ple she meets, only using the pow­er of her posi­tion when she needs it. Oth­er­wise, no undue impor­tance needs to be attached to her role, and she is hap­py to be away from the screen occa­sion­al­ly. In one scene she with­draws cash from the local ATM, in anoth­er she returns with shop­ping bags. Impor­tant rev­e­la­tions occur in both scenes. The main­stream Bol­ly­wood stars don­ning uni­forms and leap­ing through hous­es chas­ing sus­pects can take note. What oth­er female char­ac­ter play­ing a police offi­cer com­pares to Naidu? Def­i­nite­ly not the stern and stern Meera Desh­mukh from Drishyam, anoth­er role hap­pened to be played by Tabu. Next week's sequel, star­ring Ajay Devgn, also marks Meera Desh­mukh's return. It will be inter­est­ing to see how Meera catch­es up with Naidu.
Beyond all of these com­par­isons, both Mon­i­ca and Naidu influ­ence the flow of the whim­si­cal thriller with incred­i­ble force. Note that Naidu and Mon­i­ca nev­er real­ly share a scene togeth­er, and in most scenes they are either alone or deal­ing with men in the room. Set­tled in their own total­ly patri­ar­chal work­place, these two women have left their work to them­selves. Most impor­tant­ly, both Mon­i­ca and Naidu aren't just defined as the male char­ac­ter's love inter­est. Mon­i­ca's idea of ​​love is extreme­ly mate­ri­al­is­tic, her goal is to be able to spend mon­ey on things she loves. Her love for Jayant has more to do with sur­viv­ing than find­ing a mate in him. As for Naidu, she's too exhaust­ed from pro­cess­ing the unrea­son­able gos­sip sur­round­ing her pro­fes­sion­al life to give us even a glimpse into her per­son­al relationships.
Mon­i­ca, O My Dar­ling just isn't inter­est­ed in invad­ing her wives' pri­vate lives and feed­ing us the warped log­ic of love, which is the sav­ior in such an aggres­sive­ly eco­nom­ic sys­tem. The women are wild and put their careers ahead of every­thing else. Each of them has the pow­er and works around it strate­gi­cal­ly, their pri­or­i­ties clipped. Nei­ther of them need a back­sto­ry or sub­plot to make their inten­tions clear. Kudos to direc­tor Vasan Bala and writer Yogesh Chan­dekhar for leav­ing these women to go their own way. If the sys­tem is rigged, you can't blame them for not play­ing along. Whether you love them or hate them is your choice. Whether they sur­vive at the end of the game is anoth­er ques­tion entire­ly. The deal is, with­out them the game would­n't have started.