Busi­ness­man Raj Kun­dra has claimed actress Sher­lyn Chopra is only pro­duc­ing on the stream­ing site.
On Tues­day, Raj took to Twit­ter and respond­ed to a tweet about Sher­lyn pro­duc­ing adult con­tent. Raj's reac­tion on Twit­ter comes a year lat­er after Sher­lyn filed a sex­u­al harass­ment com­plaint against him. "This is my exact point! Who is she respon­si­ble for her own pro­duced X‑rate con­tent for fans only Time! She is a Men­ace 2 soci­ety! @Mahacyber1," Raj tweeted.
Here is Raj Kun­dra's tweet he shared while reply­ing to the user: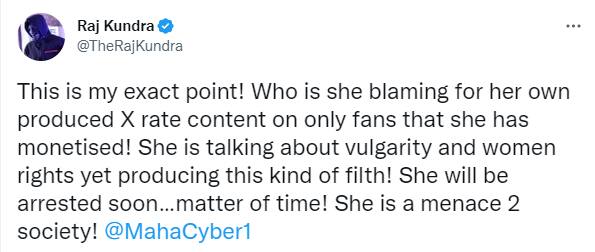 Sher­lyn filed a com­plaint against Raj and his wife, actor Shilpa Shet­ty, in Octo­ber 2021 for fraud and men­tal harass­ment. At the time, Raj was under inves­ti­ga­tion for his con­nec­tions to apps that gen­er­ate porno­graph­ic con­tent. He was even arrest­ed in July 2021 for alleged­ly pro­duc­ing porno­graph­ic videos and was grant­ed bail in September.
It was filed under rel­e­vant sec­tions of the Indi­an Penal Code, Inde­cent Rep­re­sen­ta­tion of Women (Pre­ven­tion) and the Infor­ma­tion Tech­nol­o­gy Act.