Sum­ma­ry: Cephalo­pod neur­al stem cells func­tion sim­i­lar­ly to those of ver­te­brates dur­ing the devel­op­ment of the ner­vous system.
Source: Har­vard
Cephalopods — which include octo­pus­es, squid, and their squid cousins ​​— are capa­ble of some tru­ly charis­mat­ic behav­iors. They can quick­ly process infor­ma­tion to change shape, col­or, and even tex­ture to blend in with their envi­ron­ment. They can also com­mu­ni­cate, show signs of spa­tial learn­ing, and use prob­lem-solv­ing tools. They are so smart that they can even get bored.
It's no secret what makes it pos­si­ble: cephalopods have the most com­plex brains of any inver­te­brate on the plan­et. How­ev­er, the process remains a mys­tery. Basi­cal­ly, sci­en­tists have long won­dered how cephalopods get their big brains in the first place?
A Har­vard lab study­ing these soft-bod­ied crea­tures' visu­al sys­tem — which focus­es two-thirds of their cen­tral pro­cess­ing tis­sue — thinks they're almost there to fig­ure it out. The process, they say, is sur­pris­ing­ly familiar.
Researchers at the FAS Cen­ter for Sys­tems Biol­o­gy describe how they were able to observe the for­ma­tion of neu­rons in the embryo in near real time using a new live imag­ing tech­nique. They were then able to fol­low these cells through the devel­op­ment of the ner­vous sys­tem in the reti­na. What they saw sur­prised them.
The neur­al stem cells they tracked behaved eeri­ly sim­i­lar to those cells in ver­te­brates dur­ing the devel­op­ment of their ner­vous systems.
It sug­gests that although ver­te­brates and cephalopods dif­fered from each oth­er 500 mil­lion years ago, not only do they use sim­i­lar mech­a­nisms to make their large brains, but that this process and the way the cells act divide and are formed, can essen­tial­ly design the required blue­print devel­op this type of ner­vous system.
"Our con­clu­sions were sur­pris­ing because much of what we know about the devel­op­ment of the ner­vous sys­tem in ver­te­brates has long been thought to be spe­cif­ic to this lin­eage," said Kris­ten Koenig, John Har­vard Dis­tin­guished Fel­low and senior author of the study.
"By observ­ing the fact that the process is very sim­i­lar, it sug­gest­ed to us that these two inde­pen­dent­ly evolved, very large ner­vous sys­tems use the same mech­a­nisms to build them. This sug­gests that these mech­a­nisms – these tools – that ani­mals use dur­ing devel­op­ment may be impor­tant in build­ing large ner­vous systems."
The Koenig Lab sci­en­tists focused on the reti­na of a squid named Dory­teuthis pealeii, more com­mon­ly known as a type of longfin squid. The squid grow to about a foot in length and are abun­dant in the North­west Atlantic. As embryos, they look pret­ty adorable with big heads and big eyes.
Researchers used tech­niques sim­i­lar to pop­u­lar ones to study mod­el organ­isms such as fruit flies and zebrafish. They devel­oped spe­cial tools and used state-of-the-art micro­scopes that could take high-res­o­lu­tion images every ten min­utes for hours to see how indi­vid­ual cells behaved. The researchers used flu­o­res­cent dyes to mark the cells so they could map and track them.
This live imag­ing tech­nique allowed the team to observe stem cells, called neur­al prog­en­i­tor cells, and their orga­ni­za­tion. The cells form a spe­cial type of struc­ture called pseu­dos­trat­i­fied epithe­li­um. Its main fea­ture is that the cells are elon­gat­ed, allow­ing them to pack tightly.
The researchers also saw the core of these struc­tures mov­ing up and down before and after the divi­sion. This move­ment is impor­tant for keep­ing tis­sue orga­nized and for growth to con­tin­ue, they said.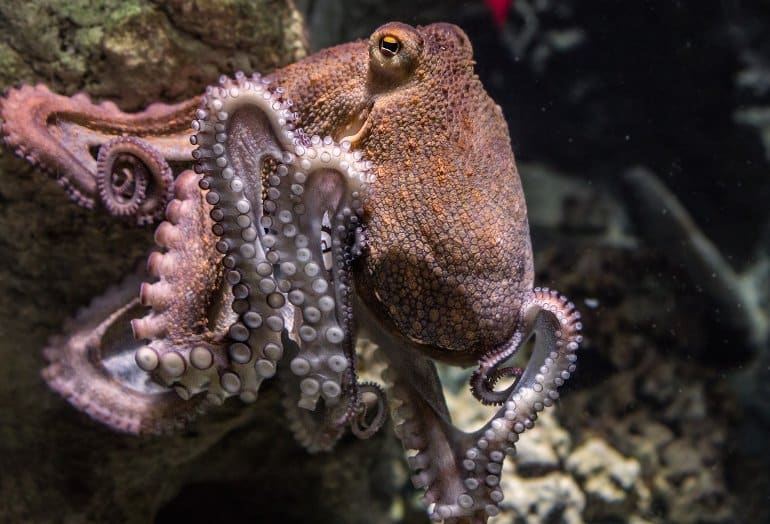 This type of struc­ture is uni­ver­sal to how ver­te­brate species devel­op their brains and eyes. His­tor­i­cal­ly, it was thought to be one of the rea­sons why the ver­te­brate ner­vous sys­tem was able to grow so large and com­plex. Sci­en­tists have observed exam­ples of this type of neur­al epithe­li­um in oth­er ani­mals, but the squid tis­sue they exam­ined in this case was unusu­al­ly sim­i­lar to ver­te­brate tis­sue in its size, orga­ni­za­tion, and the way the cell nucle­us moved.
The research was led by Francesca R. Napoli and Christi­na M. Daly, research asso­ciates at the Koenig Lab.
Next, the lab wants to inves­ti­gate how dif­fer­ent cell types devel­op in the brains of cephalopods. Koenig wants to deter­mine if they are expressed at dif­fer­ent times, how they choose to become one type of neu­ron ver­sus anoth­er, and whether this action is sim­i­lar across species.
Koenig is excit­ed about the poten­tial dis­cov­er­ies that lie ahead.
"One of the great take­aways from this type of work is the val­ue of study­ing the diver­si­ty of life," Koenig said. "By study­ing this diver­si­ty, you can actu­al­ly come back to fun­da­men­tal ideas about our own devel­op­ment and our own bio­med­ical­ly rel­e­vant ques­tions. You can real­ly respond to these questions."
About this news from neuroscientific research
Author: Juan Siliezar
Source: Har­vard
Con­tact: Juan Siliezar—Harvard
Pic­ture: The image is in the pub­lic domain
Orig­i­nal research: Closed access.
"Devel­op­ment of the cephalo­pod reti­na reveals ver­te­brate-like mech­a­nisms of neu­ro­ge­n­e­sis" by Kris­ten Koenig et al. Cur­rent Biology
abstract
The devel­op­ment of the cephalo­pod reti­na reveals ver­te­brate-like mech­a­nisms of neurogenesis
highlights
Reti­nal prog­en­i­tor cells in squid under­go inter­ki­net­ic nuclear migration
Prog­en­i­tor cells, post­mi­tot­ic and dif­fer­en­ti­at­ed cells are tran­scrip­tion­al­ly defined
Notch sig­nal­ing can reg­u­late both reti­nal cell cycle and cell fate in squid
summary
Coleoid cephalopods, includ­ing cut­tle­fish, cut­tle­fish, and cut­tle­fish, have large and com­plex ner­vous sys­tems and cam­era-like eyes with high acu­ity. These traits are com­pa­ra­ble only to traits that evolved inde­pen­dent­ly in the ver­te­brate lineage.
The size of ani­mal ner­vous sys­tems and the diver­si­ty of their con­stituent cell types is a result of the tight reg­u­la­tion of cell pro­lif­er­a­tion and dif­fer­en­ti­a­tion dur­ing development.
Changes in the devel­op­men­tal process dur­ing evo­lu­tion that result in a diver­si­ty of nerve cell types and vari­able size of the ner­vous sys­tem are not well understood.
Here we devel­oped live imag­ing tech­niques and con­duct­ed func­tion­al inter­views to show that the squid Dory­teuthis pealeii uti­lizes mech­a­nisms dur­ing reti­nal neu­ro­ge­n­e­sis that are hall­marks of ver­te­brate processes.
We find that reti­nal prog­en­i­tor cells in squid under­go nuclear migra­tion until they exit the cell cycle. We iden­ti­fy the reti­nal orga­ni­za­tion cor­re­spond­ing to prog­en­i­tor, post­mi­tot­ic, and dif­fer­en­ti­at­ed cells.
Final­ly, we find that Notch sig­nal­ing can reg­u­late both reti­nal cell cycle and cell fate. Giv­en the con­ver­gent evo­lu­tion of sophis­ti­cat­ed visu­al sys­tems in cephalopods and ver­te­brates, these results reveal com­mon mech­a­nisms under­ly­ing the growth of high­ly pro­lif­er­a­tive neu­ro­genic protozoa.
This work sheds light on mech­a­nisms that alter onto­ge­net­ic allom­e­try and may con­tribute to the devel­op­ment of com­plex­i­ty and growth in ani­mal ner­vous systems.