Kate Winslet has reunit­ed with Titan­ic direc­tor James Cameron after 26 years to cre­ate some­thing as big as the high­ly antic­i­pat­ed Avatar sequel. The film, titled "Avatar: The Way Of Water," will see Kate as Na'vi war­rior Ronal, with the actor slip­ping into the shoes of the blue aliens like nev­er before. The film is slat­ed to hit the­aters on Decem­ber 16 this year.
Kate Winslet's look as Ronal was revealed exclu­sive­ly on the cov­er of Empire mag­a­zine's spe­cial Avatar issue. The actress looks fierce with sharp canines and big eyes as she yells at some­one with anger writ­ten large on her fore­head. She looks a lit­tle dif­fer­ent from Avatar's Neytiri (Zoe Sal­dana) with her unkempt open­ing loose­ly splayed around the back as opposed to Neytir­i's braid­ed look.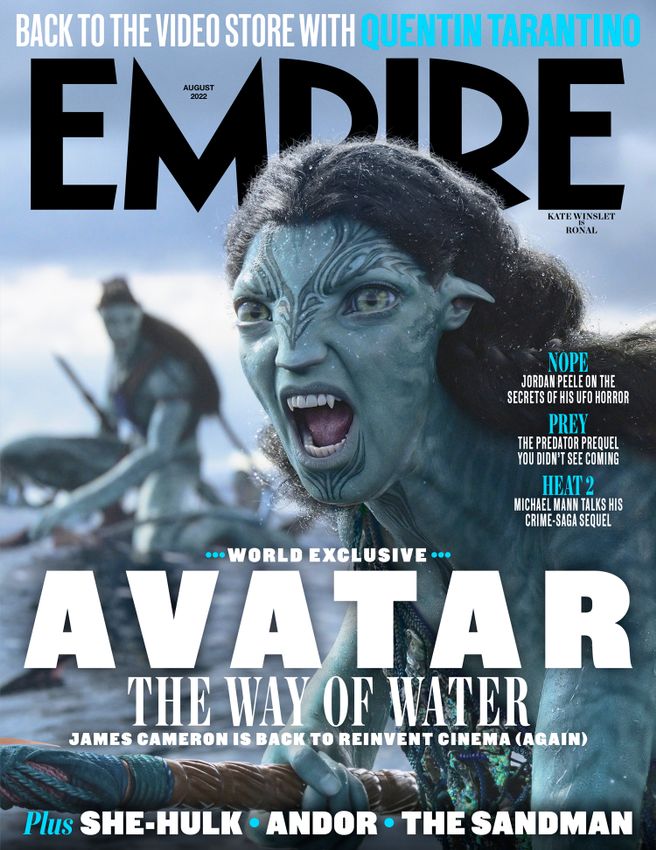 Empireonline.com reports that Ronal leads the Metkay­i­na tribe along with Cliff Cur­tis' Tonowari, who live in the depths of Pan­do­ra's vast oceans and play a major role in the upcom­ing film. Speak­ing about her char­ac­ter, Kate told the mag­a­zine in an inter­view: "She is deeply loy­al and a fear­less leader. She is strong. A fight­er. Even in the face of great dan­ger and with an unborn baby on board, she joins her peo­ple and fights for what mat­ters most to her. Your fam­i­ly and your home."
Kate, who has had an aquat­ic con­nec­tion with James Cameron since her 1997 mag­num opus Titan­ic, has a very dif­fer­ent role in Avatar, which did­n't just require her to float, but to go under­wa­ter. She said the longest she'd stayed under­wa­ter was "sev­en min­utes and 14 sec­onds," adding, "The most amaz­ing thing for me as a mid­dle-aged woman was learn­ing some­thing not just new, but superhuman."
Avatar The Way of Water fol­lows the events of the 2009 film Avatar and is expect­ed to fea­ture the return of Jake Sul­ly (Sam Wor­thing­ton), Neytiri (Zoe Sal­dana), Colonel Miles Quar­itch (Stephen Lang) and Dr. Mark Grace Augus­tine (Sigour­ney Weaver).