As tele­com com­pa­nies like Air­tel roll out 5G ser­vices in India, the demand for 5G smart­phones has increased. Flip­kart recent­ly com­plet­ed its month-long sale that has seen smart­phone deals rain­ing down. Now the e‑commerce site has once again pub­lished top deals for smart­phones in all cat­e­gories. Flip­kart offers deals on bud­get smart­phones as well as 5G smart­phones. So if you also want to upgrade to a 5G smart­phone, this could be such an oppor­tu­ni­ty for you.
Flip­kart is offer­ing dis­counts on the Sam­sung Galaxy F23 5G mod­el. The device costs Rs 15,999 for 6GB RAM and 128GB stor­age vari­ant. How­ev­er, Flip­kart offers 10% dis­count up to 750 on AXIS cred­it cards and 5% dis­count on Flip­kart Axis bank cards. The e‑commerce por­tal offers a max­i­mum exchange price of Rs 15,300. So if you have an old smart­phone, you can get an exchange dis­count depend­ing on the mod­el of the smart­phone. The price will vary from mod­el to model.
Tak­ing into account the max­i­mum exchange dis­count, the price of the smart­phone is reduced to Rs 699 (Rs 15,999 to 15,300). So a per­son can get Sam­sung Galaxy F23 5G for just Rs 699.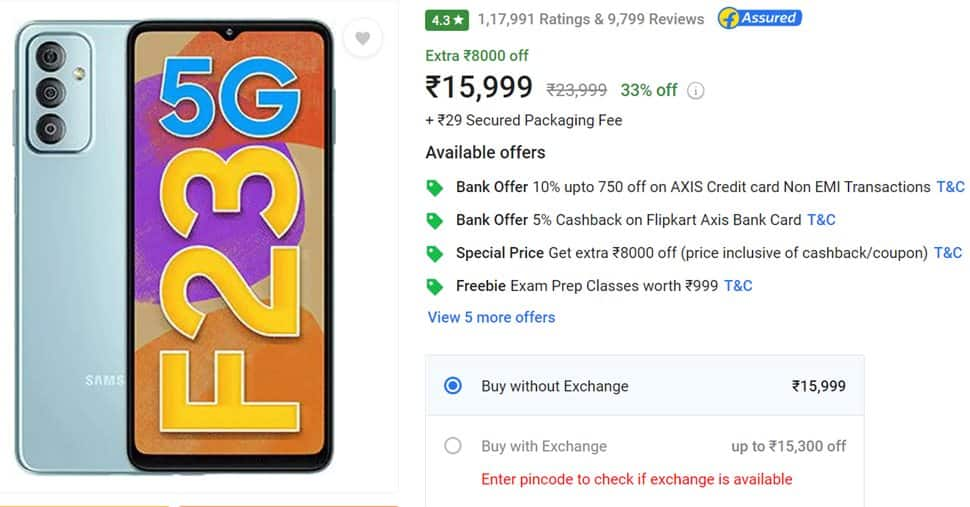 The stor­age can be expand­ed up to 1 TB. The Sam­sung Galaxy F23 5G has a 6.6‑inch Full HD dis­play and a triple rear cam­era with a com­bi­na­tion of 50 MP + 8 MP + 2 MP. For self­ies, the device has an 8MP front cam­era. It is pow­ered by a 5000mAh bat­tery and a Qual­comm Snap­drag­on 750G proces­sor. The device fea­tures Pow­er-Cool tech­nol­o­gy, voice focus, Goril­la Glass 5 dis­play, auto­mat­ic data switch­ing func­tion and fin­ger­print sensor.